Hello and Thank you

so much

 
for your consideration for the

Graphic Design Associate Position

 at 

Heroic Public Speaking HQ

.
Below you will find the digital version of the proposal for review.
(Please note, these materials were prepared specifically for consideration of the above role)
CREATIVE CONCEPTS: social Campaign 1
This campaign consists of highlighting speaker experiences and how the trainings positively impacted their professional careers. These quotes can be generated from reviews and personal statements made at the end of the programs. This would show viewers that knowledge is power and we are
#bettertogether
.
CREATIVE CONCEPTS: social Campaign 2
The second campaign,
#beloudbeheard
 consists of promoting the idea that the public speaking trainings can help you evolve in your professional career, by learning how to take control of conversations and be heard. Generally, at the beginning of one's career, most struggle with speaking up and being heard. This campaign would target younger audiences, to show that any time is a good time to invest in your future and that taking this course would help them to grow and become more vocal in their careers. 
CREATIVE CONCEPTS: social Campaign 3
The below campaign,
#doitforyou
 also encourages individuals to sign up for the public speaking seminars, but focuses on the idea of bettering yourself with the knowledge. This campaign targets the idea of investing in yourself and your future, and is more general to all audiences. More information would be shared with this campaign, specifically from the co-founders, to say what will be learned in the 2 day seminar. This would also provide more information regarding who the target audience is for these trainings.
CREATIVE CONCEPTS: PODCAST PROMOTION
The concept behind the below designs is to highlight featured speakers, which would likely encourage more individuals to share podcast posts when they are featured. This would also provide the chance to create more content from past podcasts, by generating posts with quotes from the show to have listeners engage with the show long after it is released. These designs might also encourage others in the field to speak on the show because it would bring attention to both the speakers and podcast.
CREATIVE CONCEPTS: WEBSITE DESIGN
This design focuses on promoting a keynote speaker that has a podcast and several books available. This simple landing page would allow the viewer to easily find the top links and learn more about the speaker. The logo design consisted of a bolder design to match with the bold red and pink colors. The overall look and feel of the website conveys with a personable, bubbly speaker, who likes to help others in a more relaxed setting.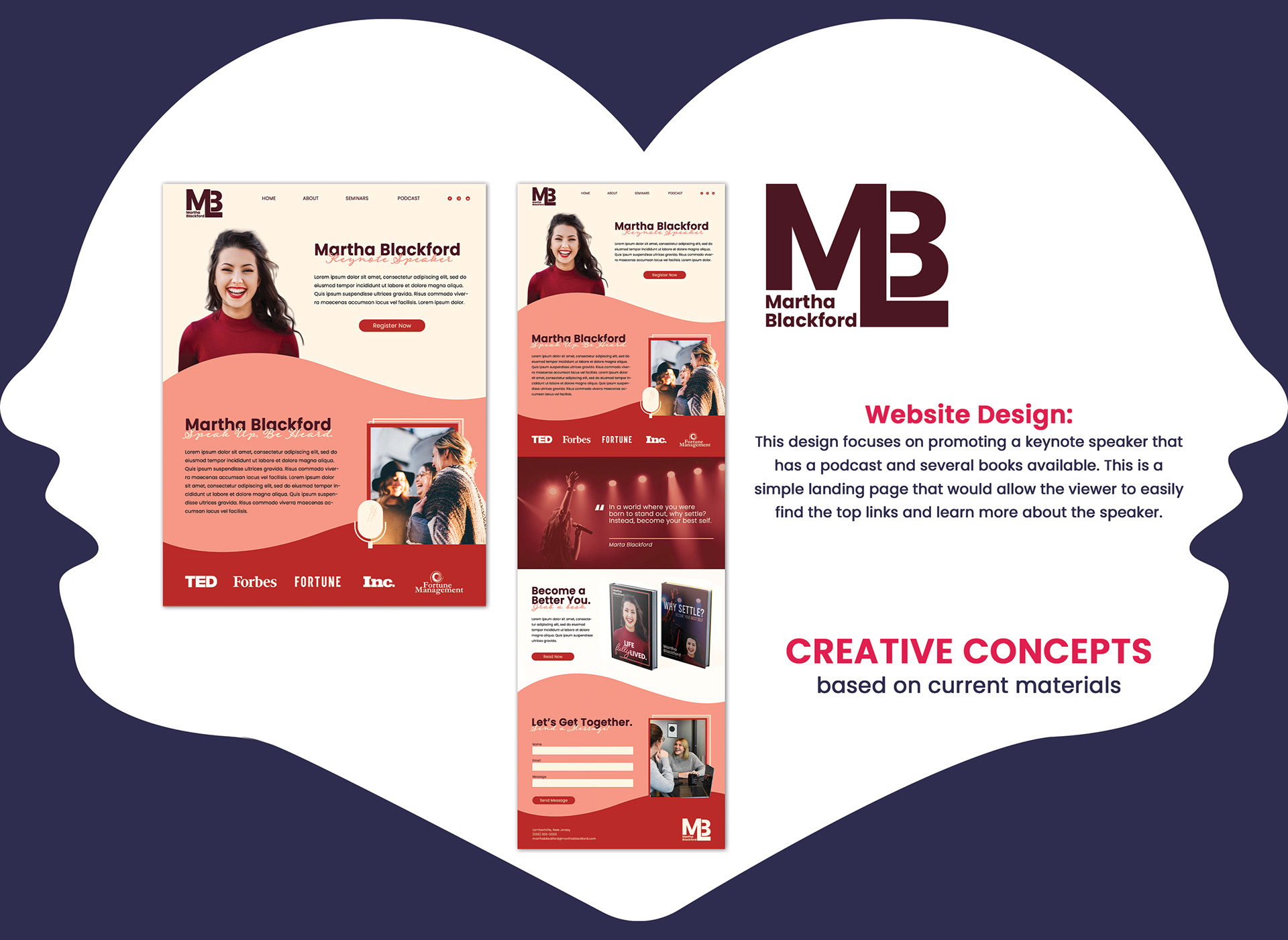 CREATIVE CONCEPTS: MARKETING MATERIALS
Below are a few marketing materials that can be used to promote the brand and encourage others to become involved with the podcast and training events. The poster on the left correlates with the idea of investing in yourself and your future, and provides more information about the training program, as well as the information to find out more. The right shows a postcard design that can be used to invite guest speakers onto the show. It would allow the invitation to be more personable and would allow room on the back to write a personal note.
CREATIVE CONCEPTS: CLOTHING MERCHANDISE
The Heroic Public Speaking brand is very bold and informative. I took this idea and applied it to the clothing samples below. I wanted to convey the amount of information that can be retained from listening to the podcasts, with the graphic displayed on the left. The idea of this was to show that it is filled with beneficial content that can help anyone with public speaking. On the right, the design is very simple but bold. It is conveyed from the trainings that working together will help speakers to grow together, and that speech has the power to change the world.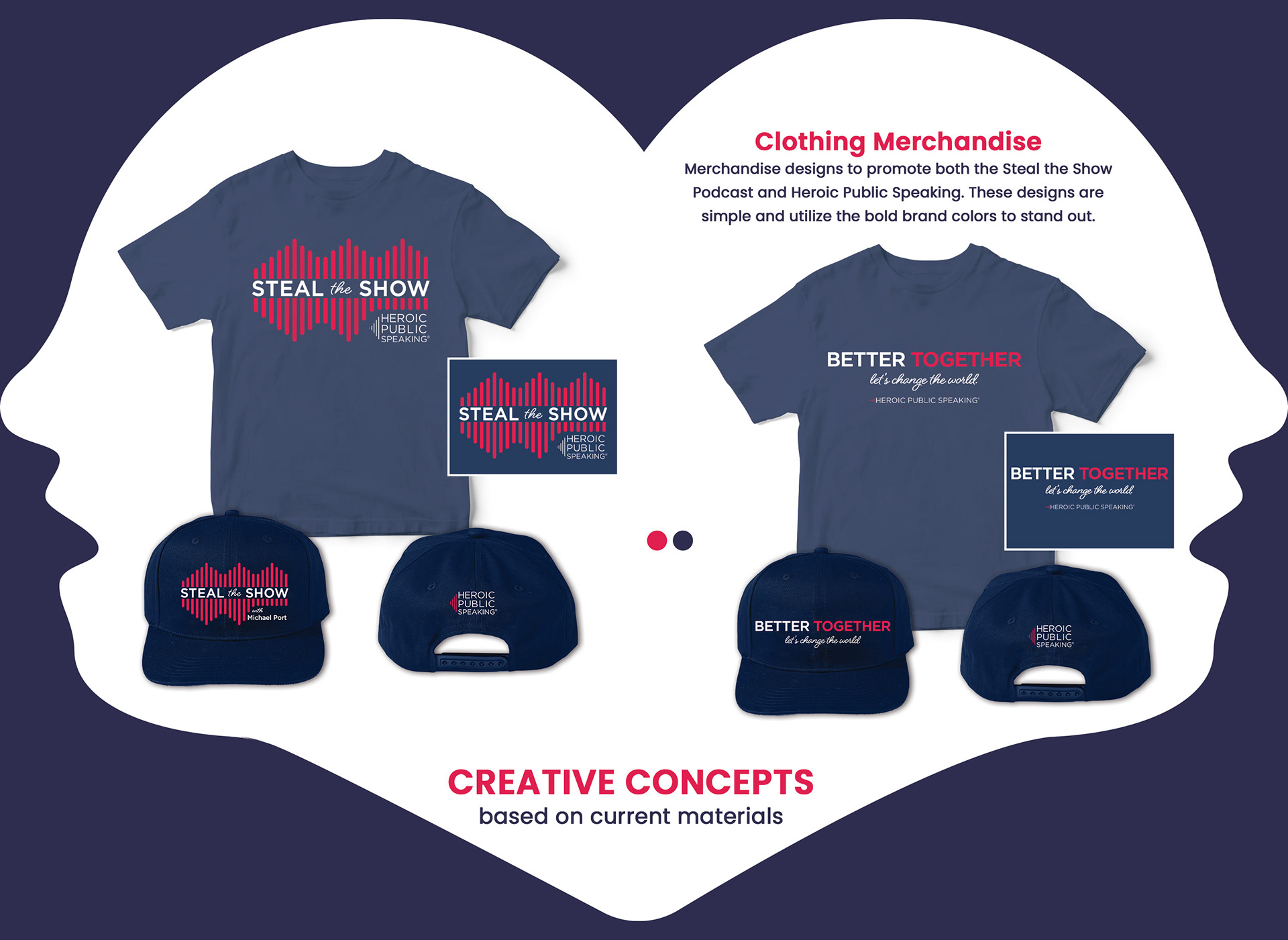 Currently I am an Associate Art Director at MJH Life Sciences. Below shows a few work design pieces that I have recently worked on, as well as a few side projects. (more details are available on my resume below)
Previous Work relative to the position
As a result of graduating with a double major in both Print and Web Design, as well as a minor in Advertising, I threw myself into several projects that have allowed me to work on an array of design work. I have illustrated multiple children's books, worked on websites and marketing materials such as brochures, advertisements, logos, posters, invitations, infographics, social graphics and have experience working in publishing on magazines. I am a self-starter, a quick learner, and always eager to continue growing and learning new skills.
I have worked for several non-profit organizations, adhering to their brand guidelines, to aid in the growth of their community. While working with Susan G. Komen, Move For Hunger, Studio Montclair, and Jersey Shore Touring Society, I developed new creative approaches and worked on several projects that contributed to excelling the shared goal. I have worked on the designs for several marketing campaigns such as the September Hunger Action Month for Move For Hunger, and the Breast Cancer Awareness month and More Than Pink Walk campaigns for Susan G. Komen. Also, although not a non-profit, I worked at First Looks Advertising Agency and learned what makes a powerful advertisement while assisting with projects such as video creation and scripts, print advertisements, infographics, marketing materials, and brochures. (more details are available on my resume below)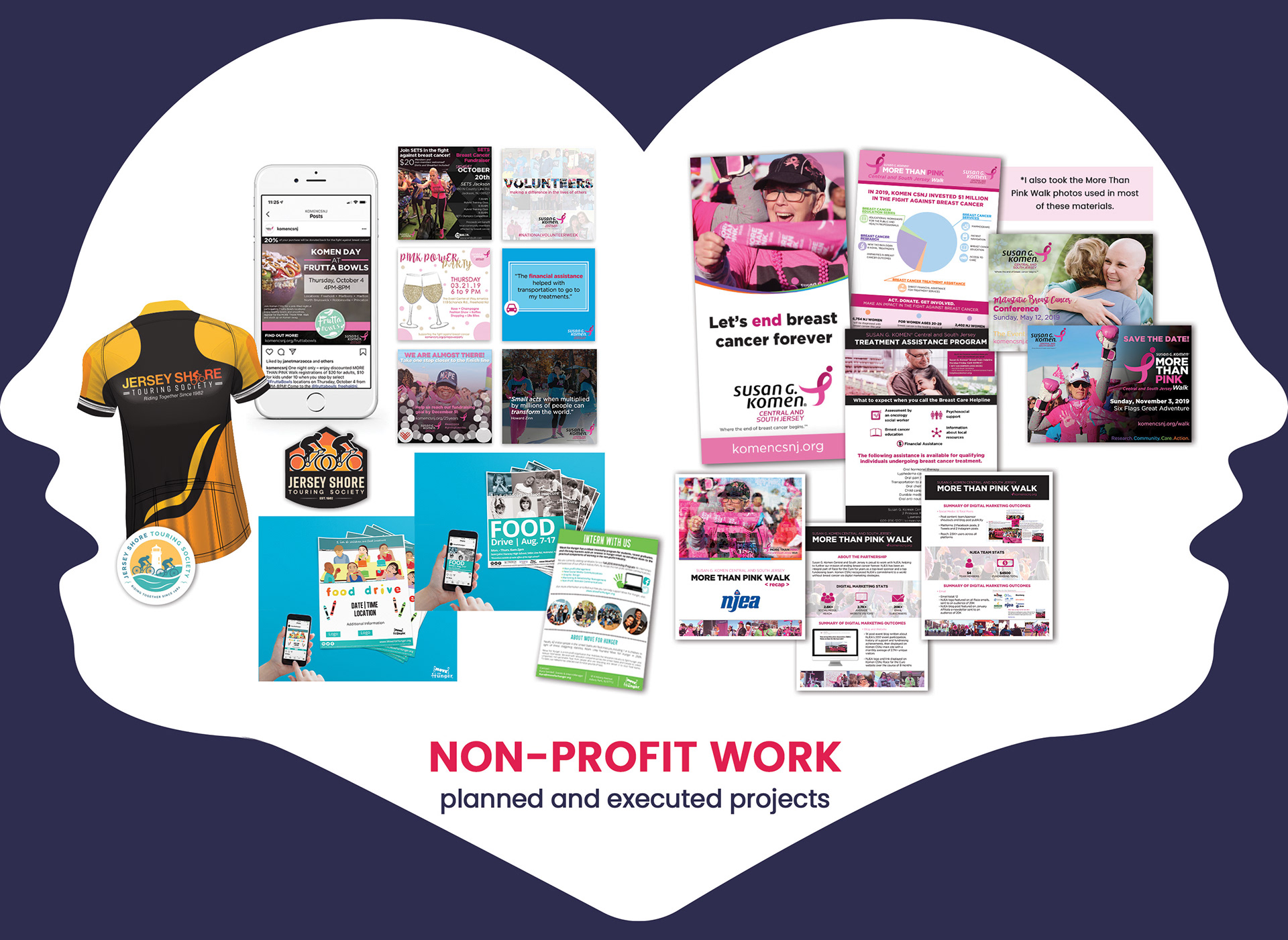 I also have an interest in learning more about event photography and currently volunteer with The Watershed Institute and Susan G. Komen to photograph their largest events of the year. Below shows a few samples from the More Than Pink Walk with Susan G. Komen, as well as the Butterfly Festival with The Watershed Institute.